The best way to experience The Rocky Horror Show is LIVE on stage.
Below you will find live productions of The Rocky Horror Show.  Find one close to you - grab a friend - and go see for your self!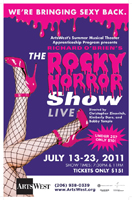 The Rocky Horror Show
Live on Stage
Seattle, Washington
ArtsWest Playhouse & Gallery
July 13-23, 2011
Phone: (206) 938-0963 x 107
www.artswest.org
The Rocky Horror Show
San Antonio, Texas
Oct 30-31, 2009
Josephine Theatre
339 W. Joesphine
San Antonio, TX 78212
JosephineTheatre.org

The Rocky Horror Show
Louisville, Kentucky
Sept 24, 25, 26, 27, 30, Oct 1, 2, 3, 4, 2009
Henry Clay Bldg.
306 S. Thirtd St.  Louisville, KY 40202
pandora.productions@insightbb.com
PandoraProds.org
If you have a live performance of The Rocky Horror Show that you would like to promote free on
DammitJanet.com
- simply
click HERE
and let us know all the vital information.
We will add it to our site and for others to see.